A Lip Reader Revealed What Harry Told Meghan When He Saw Her In The Wedding Dress
And its adorable.
With all eyes on the royal wedding, nothing gets pass the keen eyes of enthusiastic viewers. It goes so far someone even paid enough attention to what Prince Harry said to Meghan when the bride reached the groom at the altar.
Although almost anything could have been said as Harry began to tear up, James Freeston, a professional lip reader reveals what the couple exchanged as Prince Charles handed Meghan off to her future husband.
At first, Harry addresses his dad with a prim and proper, "Thank you father." (Remember: Prince Charles did the couple a solid by walking the bride down the aisle — her own pops couldn't make it to the festivities due to a heart surgery earlier this week.)
Then, Prince Harry says to Meghan, "Are you OK? You look amazing."
And he is not wrong. Just look at her, in that long-sleeve boatneck dress design by Clare Waight Keller.
In response to her husbands compliment, Meghan replies, "Thank you", and then poses a question that Freeston cant really decipher.
However everything is fine as Harry just replies "Absolutely".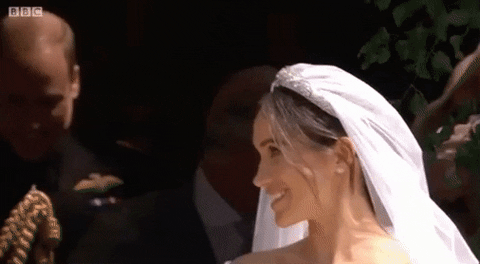 So happy for these two.